Structural dynamics and perspectives of vitamin B6 biosynthesis enzymes in plasmodium: advances and open questions.
BARRA, Angélica Luana Carrilho; ULLAH, Najeeb; MORÃO, Luana Galvão; WRENGER, Carsten; BETZEL, Christian; NASCIMENTO, Alessandro Silva.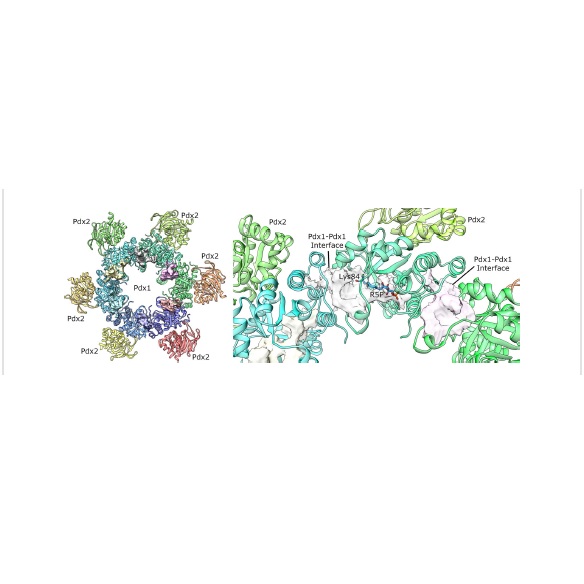 Abstract: Malaria is still today one of the most concerning diseases, with 219 million infections in 2019, most of them in Sub-Saharan Africa and Latin America, causing approx. 409,000 deaths per year. Despite the tremendous advances in malaria treatment and prevention, there is still no vaccine for this disease yet available and the increasing parasite resistance to already existing drugs is becoming an alarming issue globally. In this context, several potential targets for the development of new drug candidates have been proposed and, among those, the de novo biosynthesis pathway for the B6 vitamin was identified to be a promising candidate. The reason behind its significance is the absence of the pathway in humans and its essential presence in the metabolism of major pathogenic organisms. The pathway consists of two enzymes i.e. Pdx1 (PLP synthase domain) and Pdx2 (glutaminase domain), the last constituting a transient and dynamic complex with Pdx1 as the prime player and harboring the catalytic center. In this review, we discuss the structural biology of Pdx1 and Pdx2, together with and the understanding of the PLP biosynthesis provided by the crystallographic data. We also highlight the existing evidence of the effect of PLP synthesis inhibition on parasite proliferation. The existing data provide a flourishing environment for the structure-based design and optimization of new substrate analogs that could serve as inhibitors or even suicide inhibitors.
Frontiers in Cellular and Infection Microbiology
v. 11, p. 688380-1-688380-11 - Ano: 2021
Fator de Impacto: 5,293

@article={003036965,author = {BARRA, Angélica Luana Carrilho; ULLAH, Najeeb; MORÃO, Luana Galvão; WRENGER, Carsten; BETZEL, Christian; NASCIMENTO, Alessandro Silva.},title={Structural dynamics and perspectives of vitamin B6 biosynthesis enzymes in plasmodium: advances and open questions},journal={Frontiers in Cellular and Infection Microbiology},note={v. 11, p. 688380-1-688380-11},year={2021}}