Effects of ultraviolet light and curcumin-mediated photodynamic inactivation on microbiological food safety: a study in meat and fruit.
CORRÊA, Thaila Quatrini; BLANCO, Kate Cristina; GARCIA, Érica Boer; PEREZ, Shirly Marleny Lara; CHIANFRONE, Daniel José; MORAIS, Vinicius Sigari; BAGNATO, Vanderlei Salvador.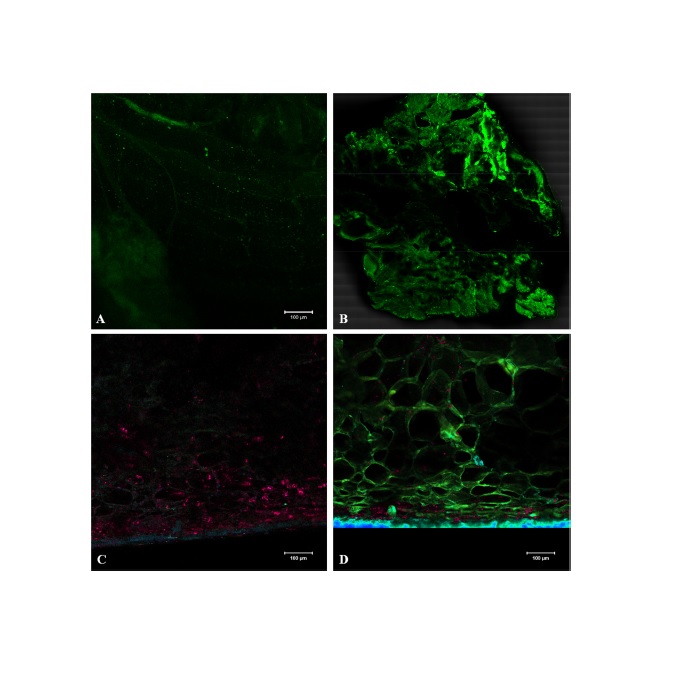 Abstract: Background: About one-third of the food produced in the world is lost or wasted every year. Contamination can cause significant food loss throughout the entire supply chain, including harvesting, processing, storage, and transport to consumers. This study evaluated ultraviolet-C (UV-C) light and curcumin-mediated photodynamic inactivation (PDI) for the decontamination of meat and fruit. Methods: The cut pieces of food samples contaminated with E. coli or S. aureus were submitted to photonic treatments. For UV-C, samples were irradiated with UV-C lamps (254 nm) for 0, 1, 2, 3, 4, 5 and 10 min. For PDI, samples were incubated using 40 and 80 µM curcumin and irradiated with 450 nm at 5, 10, and 15 J/cm2 of light doses. The microbiological analysis was performed by counting the colony-forming unit (CFU). Results: UV-C irradiation reduced the number of E. coli in beef by (1.0±0.2) log10 CFU/mL after 5 min of exposure. In chicken and pork, the numbers of E. coli were reduced by (1.6±0.7) log10 CFU/mL and (1.6±0.4) log10 CFU/mL after 4 and 10 min of irradiation, respectively. In apple the reductions were (3.2±0.4) and (3.8±0.2) log10 CFU/mL after 5 and 10 min of UV-C irradiation, respectively. PDI (40 µM, 15 J/cm2) reduced the number of S. aureus by (1.5±0.2), (1.4±0.2) and (0.6±0.4) log10 CFU/mL in beef, chicken, and pork meat samples, respectively. In apple the greatest reduction was (2.0±0.4) log10 CFU/mL using 80 µM and 10 J/cm2. Conclusion: UV-C irradiation and PDI had an antimicrobial effect in food and our findings indicated that the greatest effect was achieved in apples. Therefore, these techniques may be useful to reduce E. coli and S. aureus contamination levels on the surface of meats and fruits, being promising for applications in the field of microbiological food safety.
Photodiagnosis and Photodynamic Therapy
v. 30, p. 101678-1-101678-7 - Ano: 2020
Fator de Impacto: 2,589

@article={002992763,author = {CORRÊA, Thaila Quatrini; BLANCO, Kate Cristina; GARCIA, Érica Boer; PEREZ, Shirly Marleny Lara; CHIANFRONE, Daniel José; MORAIS, Vinicius Sigari; BAGNATO, Vanderlei Salvador.},title={Effects of ultraviolet light and curcumin-mediated photodynamic inactivation on microbiological food safety: a study in meat and fruit},journal={Photodiagnosis and Photodynamic Therapy},note={v. 30, p. 101678-1-101678-7},year={2020}}