Combination of rhamnolipid and chitosan in nanoparticles boosts their antimicrobial efficacy.
MARANGON, Crisiane Aparecida; MARTINS, Virginia da Conceição Amaro; MA, Hui Ling; MELO, Cristiane C; PLEPIS, Ana Maria de Guzzi; MEYER, Rikke L.; NITSCHKE, Marcia.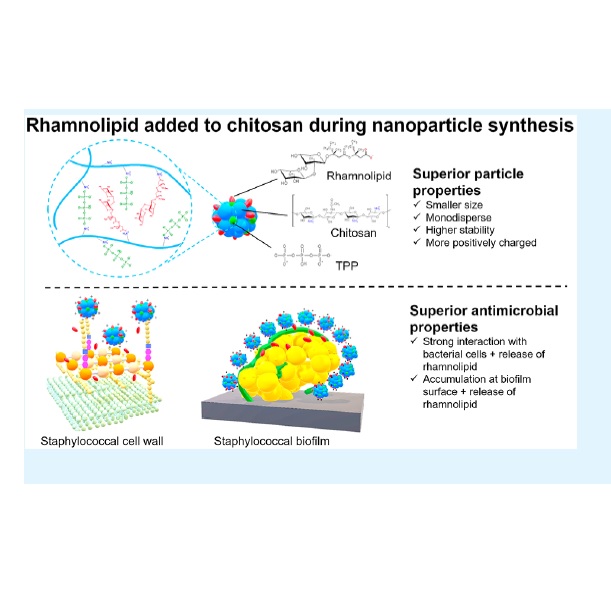 Abstract: Nanomaterials have emerged as antimicrobial agents due to their unique physical and chemical properties. The development of nanoparticles (NPs) composed of natural biopolymers and biosurfactants have sparked interest, as they can be obtained without the use of complex chemical synthesis and toxic materials. In this study, we develop antimicrobial nanoparticles combining the biopolymer chitosan with the biosurfactant rhamnolipid. Addition of rhamnolipid reduced the size and polydispersity index of chitosan nanoparticles showing a more positive surface charge with improved stability, suggesting that chitosan-free amino groups are predominantly present on the surface of nanoparticles. Antimicrobial activity of chitosan/ rhamnolipid nanoparticles (C/RL-NPs) against Staphylococcus strains surpassed that of either single rhamnolipid or chitosan, both in planktonic bacteria and biofilms. Minimum inhibitory concentration (MIC) and minimum bactericidal concentration (MBC) of C/RL-NPs were determined considering the concentration of each individual molecule in NPs. MIC values of 14/19 µg mL-1 and MBC of 29/37 µg mL-1 were observed for S. aureus DSM 1104 and MIC and MBC of 29/37 and 58/75 µg mL-1 were observed against S. aureus ATCC 29213, respectively. For S. epidermidis, MIC and MBC of 7/9 and 14/19 µg mL-1 were noticed. Chitosan and chitosan nanoparticles eliminate the bacteria present in the upper parts of biofilms, while C/RL-NPs were more effective, eradicating most sessile bacteria and reducing the number of viable cells below the detection limit, when NPs concentration of 58/75 µg mL-1 was applied for both S. aureus DSM 1104 and S. epidermidis biofilms. The improved antibacterial efficacy of C/RL-NPs was linked to the increased local delivery of chitosan and rhamnolipid at the cell surface and, consequently, to their targets in Gram-positive bacteria. The combination of chitosan and rhamnolipid offers a promising strategy to the design of novel nanoparticles with low cytotoxicity, which can be exploited in pharmaceutical and food industries.
ACS Applied Materials and Interfaces
v. 12, n. 5, p. 5488-5499 - Ano: 2020
Fator de Impacto: 8,456

@article={002986774,author = {MARANGON, Crisiane Aparecida; MARTINS, Virginia da Conceição Amaro; MA, Hui Ling; MELO, Cristiane C; PLEPIS, Ana Maria de Guzzi; MEYER, Rikke L.; NITSCHKE, Marcia.},title={Combination of rhamnolipid and chitosan in nanoparticles boosts their antimicrobial efficacy},journal={ACS Applied Materials and Interfaces},note={v. 12, n. 5, p. 5488-5499},year={2020}}