Supramolecular synthesis and characterization of crystalline solids obtained from the reaction of 5-fluorocytosine with nitro compounds.
SOUZA, Matheus da Silva; DINIZ, Luan Farinelli; ALVAREZ, Natalia; SILVA, Cecília Carolina Pinheiro da; ELLENA, Javier.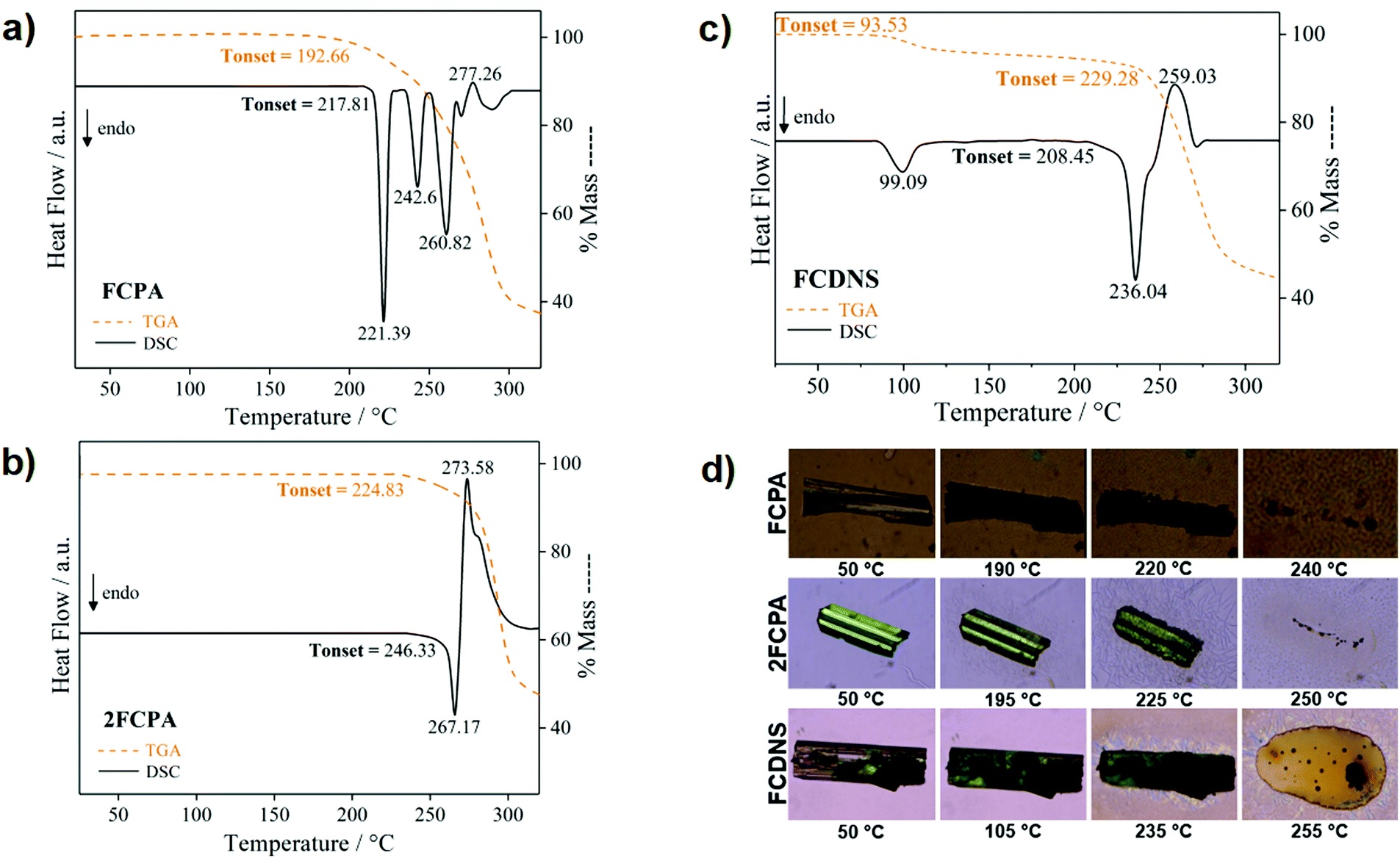 Abstract: Two novel multicomponent crystal forms of the prodrug 5-fluorocytosine (5-FC), an ionic cocrystal and a monohydrate salt, with 2,4,6-trinitrophenol (picric acid, PA) and 3,5-dinitrosalicylic acid (DNSA), respectively, were rationally designed and synthesized. Nitro compounds are used to treat many diseases, such as cancer, one of the 5-FC targets via gene-directed prodrug therapy. In addition, within the wide range of applications for nitro compounds is the formation of charge-transfer complexes with organic molecules. Among all 5-FC crystalline structures depicted, only two contain nitro compounds: a salt with PA and a dihydrate cocrystal with 5-nitrouracil. Therefore, the two new single translucent pale gold prism crystals of 5FC-PA and 5FC-DNSA were successfully obtained by slow evaporation from aqueous solution and characterized by X-ray diffraction (single crystal and powder), Fourier Transform Infrared (FT-IR), and Raman (FT-Raman) spectroscopies. In both crystal structures, the 5-FC pyrimidine ring is protonated at the N3 atom and the respective packings are mainly stabilized by N-H?O H-bonds. For the 5FC-PA ionic cocrystal, the formation of triple H-bonds (two N-H?O and one charge assisted N-H+?N H-bonds) among the 5-FC molecules was observed. This is consistent with the expected stability of the duplex structure, which is considered the strongest association between two species. In addition to the structural study, Hirshfeld surface analysis was carried out based on the single crystal X-ray diffraction data. Thermal stability was assessed through thermogravimetric analysis (TGA), differential scanning calorimetry (DSC), and hot-stage microscopy (HSM), indicating that these compounds are stable up to approximately 200 °C. The results contribute to the diversity of new 5-FC solid forms and introduce two novel compounds, with possible application in fungal/cancer medicine formulations or to better understand the behavior of cytosine in DNA/RNA base pairing.
New Journal of Chemistry
v. 43, n. 40, p. 15924-15934 - Ano: 2019
Fator de Impacto: 3,069

@article={002969539,author = {SOUZA, Matheus da Silva; DINIZ, Luan Farinelli; ALVAREZ, Natalia; SILVA, Cecília Carolina Pinheiro da; ELLENA, Javier.},title={Supramolecular synthesis and characterization of crystalline solids obtained from the reaction of 5-fluorocytosine with nitro compounds},journal={New Journal of Chemistry},note={v. 43, n. 40, p. 15924-15934},year={2019}}