Organic matrix-entrapped methylene blue as a photochemical reactor applied in chemical synthesis and nanotechnology.
MIRANDA, Érica Gislaine Aparecida de; TOLEDO, Victor Hladkyi; SANTOS, Carolina Gregorutti dos; COSTA, Fanny; DIAZ-LOPEZ, Maria; QUEIROZ, Thiago Branquinho de; NASCIMENTO, Otaciro Rangel; NANTES, Iseli Lourenço.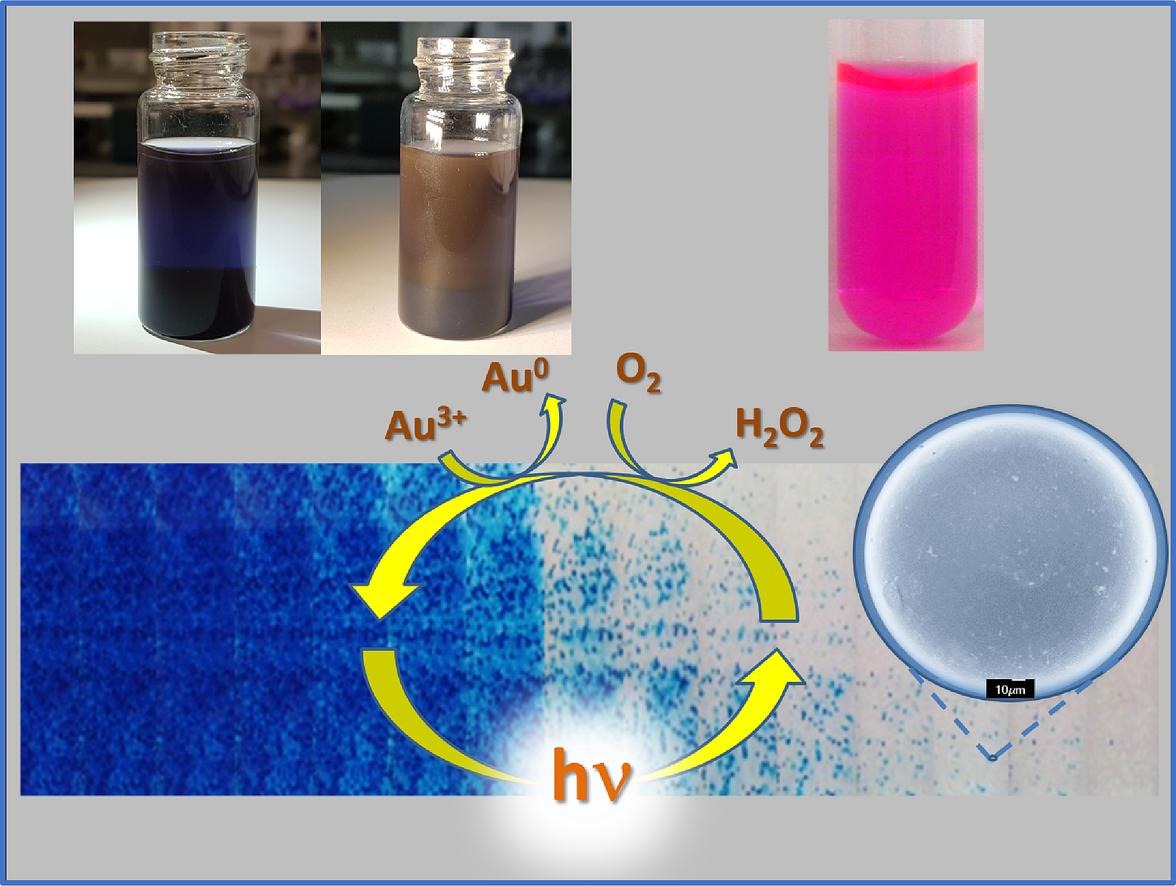 Abstract: Aggregation modulates the photochemical and photophysical properties of methylene blue (MB+). MB+ adsorbed by the anionic polymer Chelex® 100 was characterized by UV?visible absorption spectroscopy and sulfur K-edge X-ray absorption near edge structure (XANES) as H- and J-aggregates. Nuclear magnetic resonance (NMR) indicates that dye molecules bind to the unprotonated carboxylic groups of the polymer via electrostatic interactions and are bridged by water molecules. MB+ also stacks with phenyl rings appended in the Chelex® 100 chain, leading to a gain in the mobility of ordered water displaced around the aromatic rings. Like the blue bottle experiment, MB+ in Chelex® 100 was entirely photoconverted for the leuco form (LMB) by visible and red light and reoxidized by molecular oxygen. Electron paramagnetic resonance (EPR) of MB+ in Chelex® 100 demonstrated the formation of a sulfur-centered free radical during photobleaching. The free radical involvement in MB+ photobleaching is consistent with a type I mechanism in which the stabilization of the products MB2+? and MB? in dye aggregates allows the formation of LMB by MB? dismutation or a second electron abstraction. Chelex® 100 beds loaded with MB+ solutions prepared in H2O and D2O produce H2O2 and D2O2, respectively, after successive cycles of photobleaching and recycling by O2 dissolved in the liquid phase. The formation of hydrogen peroxide is attributed to spontaneous superoxide ion disproportionation in the microenvironment of the polymer lattice. The LMB produced in Chelex® 100 was also able to act as a reducing agent for the synthesis of anisotropic iridescent gold nanoparticles (GNPs). The LMB/Chelex system allows the modulation of the shape and size of GNPs using different dye/Au3+ ratios. GNPs produced using LMB as a reducing agent are also efficient cell delivery systems. The specific properties of LMB confined in solid hosts LMB/Chelex also have potential applications in new solid-state optoelectronic devices such as sensing and imaging.
Journal of Photochemistry and Photobiology A
v. 444, p. 115015-1-115015-14 + supplementary data - Ano: 2023
Fator de Impacto: 4,300

@article={003149951,author = {MIRANDA, Érica Gislaine Aparecida de; TOLEDO, Victor Hladkyi; SANTOS, Carolina Gregorutti dos; COSTA, Fanny; DIAZ-LOPEZ, Maria; QUEIROZ, Thiago Branquinho de; NASCIMENTO, Otaciro Rangel; NANTES, Iseli Lourenço.},title={Organic matrix-entrapped methylene blue as a photochemical reactor applied in chemical synthesis and nanotechnology},journal={Journal of Photochemistry and Photobiology A},note={v. 444, p. 115015-1-115015-14 + supplementary data},year={2023}}