Carbon dots: types, preparation, and their boosted antibacterial activity by photoactivation. Current status and future perspectives.
LAGOS, Karina J.; GARCÍA, David; CUADRADO, Coralía Fabiola; SOUZA, Larissa Marila de; MEZZACAPPO, Natasha Ferreira; SILVA, Ana Paula da; INADA, Natalia Mayumi; BAGNATO, Vanderlei Salvador; ROMERO, María Paulina.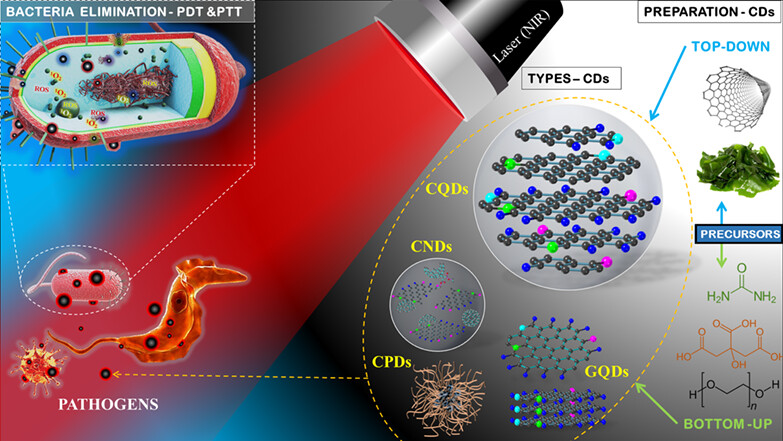 Abstract: Carbon dots (CDs) correspond to carbon-based materials (CBM) with sizes usually below 10 nm. These nanomaterials exhibit attractive properties such us low toxicity, good stability, and high conductivity, which have promoted their thorough study over the past two decades. The current review describes four types of CDs: carbon quantum dots (CQDs), graphene quantum dots (GQDs), carbon nanodots (CNDs), and carbonized polymers dots (CPDs), together with the state of the art of the main routes for their preparation, either by ?top-down? or ?bottom-up? approaches. Moreover, among the various usages of CDs within biomedicine, we have focused on their application as a novel class of broad-spectrum antibacterial agents, concretely, owing their photoactivation capability that triggers an enhanced antibacterial property. Our work presents the recent advances in this field addressing CDs, their composites and hybrids, applied as photosensitizers (PS), and photothermal agents (PA) within antibacterial strategies such as photodynamic therapy (PDT), photothermal therapy (PTT), and synchronic PDT/PTT. Furthermore, we discuss the prospects for the possible future development of large-scale preparation of CDs, and the potential for these nanomaterials to be employed in applications to combat other pathogens harmful to human health.
WIREs Nanomedicine and Nanobiotechnology
v. 15, n. 4, p. e1887-1-e1887-29 - Ano: 2023
Fator de Impacto: 8,600

@article={003149013,author = {LAGOS, Karina J.; GARCÍA, David; CUADRADO, Coralía Fabiola; SOUZA, Larissa Marila de; MEZZACAPPO, Natasha Ferreira; SILVA, Ana Paula da; INADA, Natalia Mayumi; BAGNATO, Vanderlei Salvador; ROMERO, María Paulina.},title={Carbon dots: types, preparation, and their boosted antibacterial activity by photoactivation. Current status and future perspectives},journal={WIREs Nanomedicine and Nanobiotechnology},note={v. 15, n. 4, p. e1887-1-e1887-29},year={2023}}