Photocatalytic activity and pH-induced morphological changes of ZnO/CuO nanocomposites prepared by chemical bath precipitation.
JALALI, Nargol; RAKHSHA, Amirhossein; NAMI, Mohammad; RASHCHI, Fereshteh; MASTELARO, Valmor Roberto.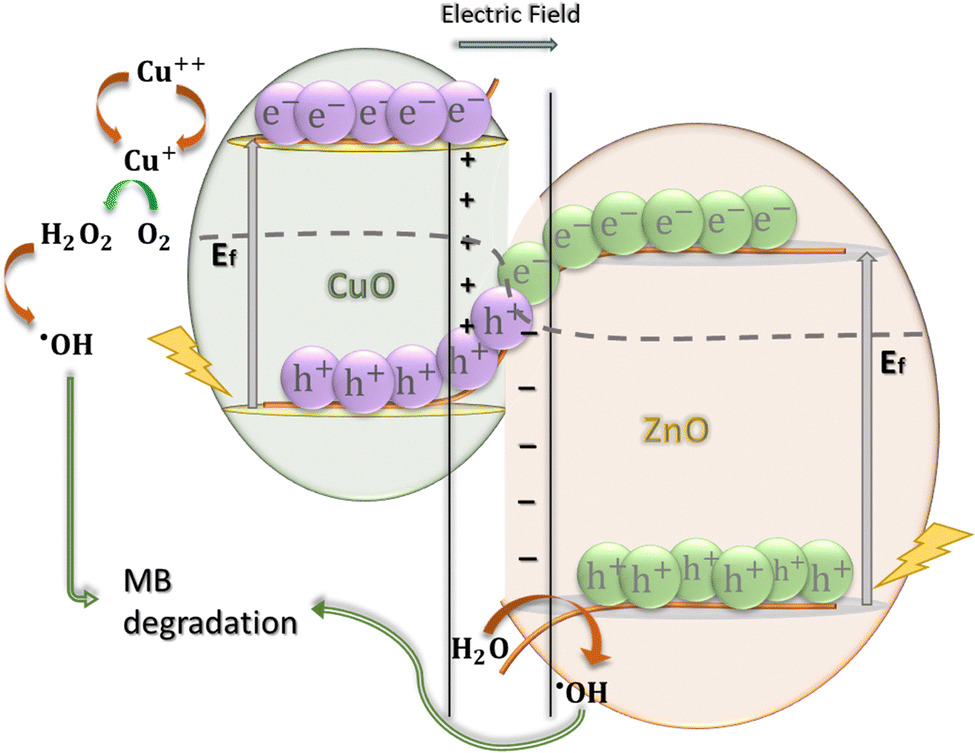 Abstract: This study presents the morphological and photocatalytic properties of ZnO/CuO nanocomposites as a function of pH. The samples were synthesized through a facile chemical bath precipitation method within a wide range of pH from 1.5 to 11. The effect of the synthesis pH on the formation and structural evolution of the nanocomposites was studied in detail using X-ray diffraction (XRD), field emission scanning microscopy (FESEM), high-resolution transmission electron microscopy (HRTEM), and highresolution X-ray photoelectron spectroscopy (HRXPS). The Brunauer-Emmett-Teller (BET) method and diffuse reflectance spectroscopy (DRS) showed the changes in the pore size volume and the band gap of the nanocomposites as a function of pH. According to the results, by increasing pH and changing the morphology, a significant enhancement in the recombination rate and the lifetime of photogenerated electrons and holes is achieved. The effect of pH-dependent synthesis on the photocatalytic activity of the as-prepared nanocomposites was investigated for the degradation of MB under visible-light irradiation. The diversity in morphologies of the nanocomposites provides different active facets for exposure to the light and therefore different degradation efficiency. A notable improvement in photocatalytic activity was evaluated for the sample prepared at pH = 10. Eventually, different scavengers were used to examine the effectiveness of photo-generated electrons, holes, hydroxyl and superoxide radicals on the photodegradation of MB under visible light.
Energy Advances
v. 2, n. 7, p. 1051-1063 + supplementary information - Ano: 2023

@article={003148706,author = {JALALI, Nargol; RAKHSHA, Amirhossein; NAMI, Mohammad; RASHCHI, Fereshteh; MASTELARO, Valmor Roberto.},title={Photocatalytic activity and pH-induced morphological changes of ZnO/CuO nanocomposites prepared by chemical bath precipitation},journal={Energy Advances},note={v. 2, n. 7, p. 1051-1063 + supplementary information},year={2023}}