The effect of ZnO on the structural and radiation shielding properties in borophosphate glasses.
MELO, Glauco Hebert Almeida de; DANTAS, Natacya Fontes; MUNIZ, Robson Ferrari; MANZANI, Danilo; OLIVEIRA JUNIOR, Marcos de; PEDROCHI, Franciana; STEIMACHER, Alysson.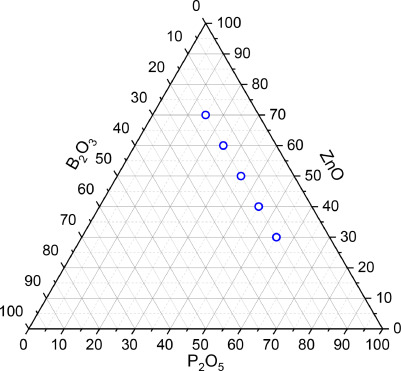 Abstract: In this work, the influence of ZnO content in the structural and radiation shielding parameters of zinc borophosphate glass were studied. The glass batch was prepared by using the melt-quenching technique. The structural analyses have been carried out using XRD, Raman spectroscopy, 11B and 31P solid state MAS NMR. Density and glass transition temperature (Tg) were measurements and band gap were determined. XRD confirms the non-crystalline nature of the prepared samples. Changes in the structural characteristics with composition are associated with a replacement of BO4 by BO3 units and the replacement of PO4 phosphorous units by PO4-1 and PO4-2 units, leading to an increase of the average number of non-bridging oxygen (NBO). Density values revealed an increase of up to 43% and Tg shows reduction followed by stability with the replacement of P2O5 by ZnO. Band gap energies were measured as a function of ZnO content. Photon interaction parameters of the zinc borophosphate glasses have been investigated by the mass attenuation coefficient (MAC), half value layer (HVL), and mean free path (MFP). For radiation in the X-ray range (40 KeV), the MAC value for glass is 887% higher than for concrete and the HVL decreases almost four times, from 20 to 6 mm thickness, with the increase of ZnO content. The rise in ZnO content also improves all radiation attenuation parameters and the results reported here show that zinc borophosphate glasses present better results than ordinary concrete and is comparable to lead-based glasses. These characteristics make this glass system an excellent choice as a high-energy ionizing radiation attenuator.
Journal of Non-Crystalline Solids
v. 618, p. 122528-1-122528-13 - Ano: 2023
Fator de Impacto: 3,500

@article={003148367,author = {MELO, Glauco Hebert Almeida de; DANTAS, Natacya Fontes; MUNIZ, Robson Ferrari; MANZANI, Danilo; OLIVEIRA JUNIOR, Marcos de; PEDROCHI, Franciana; STEIMACHER, Alysson.},title={The effect of ZnO on the structural and radiation shielding properties in borophosphate glasses},journal={Journal of Non-Crystalline Solids},note={v. 618, p. 122528-1-122528-13},year={2023}}