Magnetic field effects on the valence band of AlGaAs and InGaAsP parabolic quantum wells.
PATRICIO, Marco Antonio Tito; VILLEGAS-LELOVSKY, Leonardo; OLIVEIRA, Edson Rafael Cardozo de; MARQUES, ?Gilmar Eugenio; LAPIERRE, Ray; TOROPOV, Alexander I.; PUSEP, Yuri A.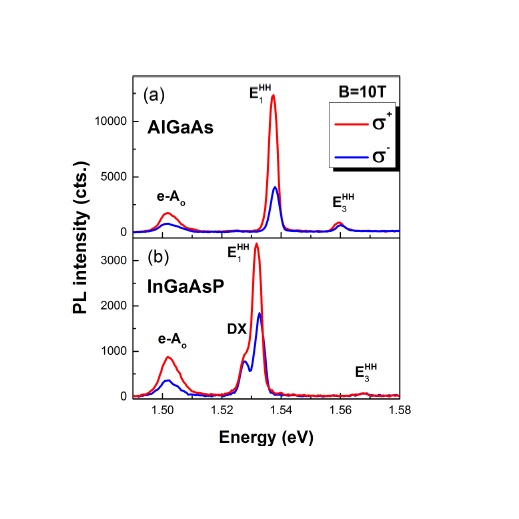 Abstract: The influence of the valence band structure on the optical properties of quantum wells with a parabolic potential, consisting of AlxGa(1-x)As and In(1-x)GaxAsyP(1-y) alloys, is studied and compared. The distribution of photogenerated carriers over the parabolic potential is found to be responsible for specific selection rules: the recombination due to only odd-indexed confined levels is observed. The reason for this is the accumulation of photogenerated holes at the center of the parabolic potential, which results in interband electron-hole recombination occurring at the center of the parabolic quantum wells. Furthermore, a specific valence band structure is found to be responsible for the magnetic-field-induced change in the photoluminescence circular polarization. In particular, at a certain magnetic field, the hybridization of the states of a heavy hole and a light hole results in the intersection of Landau levels with different spins, which leads to the observed change in the circular polarization of photoluminescence. The processes of long-term spin relaxation of heavy holes in both studied parabolic quantum wells are demonstrated, and the corresponding times are obtained.
Physical Review B
v. 108, n. 3, p. 035416-1-035416-9 - Ano: 2023
Fator de Impacto: 3,700

@article={003147436,author = {PATRICIO, Marco Antonio Tito; VILLEGAS-LELOVSKY, Leonardo; OLIVEIRA, Edson Rafael Cardozo de; MARQUES, ?Gilmar Eugenio; LAPIERRE, Ray; TOROPOV, Alexander I.; PUSEP, Yuri A.},title={Magnetic field effects on the valence band of AlGaAs and InGaAsP parabolic quantum wells},journal={Physical Review B},note={v. 108, n. 3, p. 035416-1-035416-9},year={2023}}