Towards an efficient selective oxidation of sulfides to sulfones by NiWO4 and a-Ag2WO4.
ASSIS, Marcelo de; GOUVEIA, Amanda Fernandes; SILVA, Lara Kelly Ribeiro da; PONCE, Miguel Adolfo; CHURIO, María Sandra; OLIVEIRA JUNIOR, Osvaldo Novais de; MASCARO, Lúcia Helena; LONGO, Elson; LLUSAR?, Rosa; TORRES, Eva María Guillamón; ANDRES, Juan.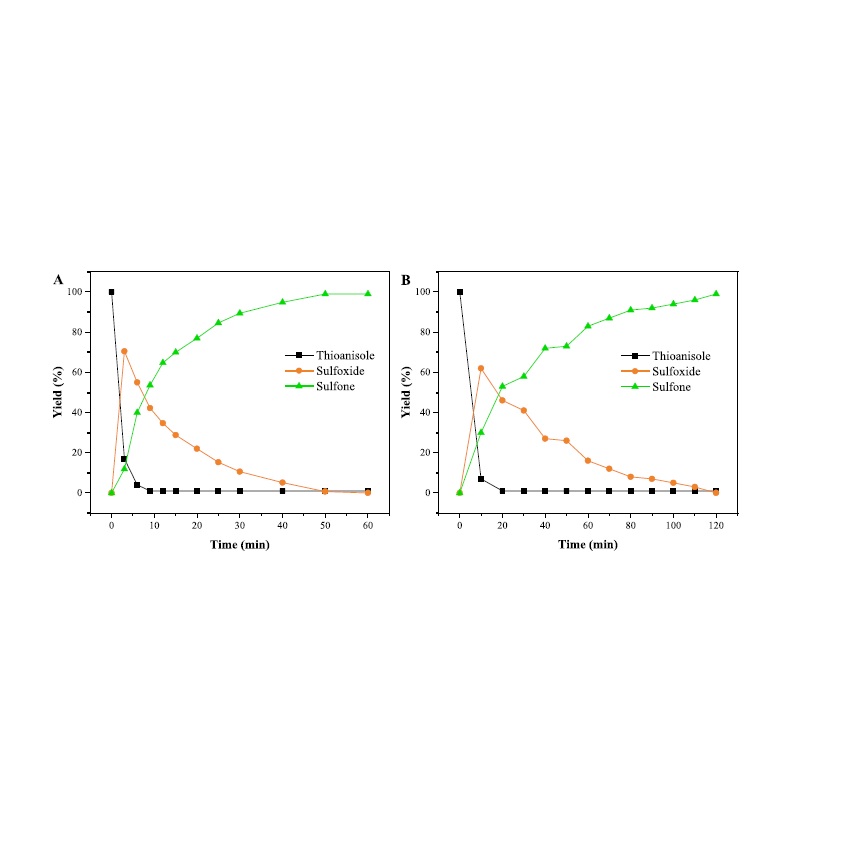 Abstract: Chemoselective oxidation of sulfides to sulfones under mild conditions is relevant for industry, but challenging owing to the need to establish catalysis mechanisms and optimize several experimental parameters. Herein, we report the synthesis of metal-based tungstates as efficient and selective catalysts for this transformation in darkness. This catalytic process is tolerant of a broad range of functionalized substituted sulfides even in the presence of oxidative-sensitive functional groups. a-Ag2WO4 and NiWO4 were found to be the best performing catalysts due to good selectivity, stability, and yield under very mild conditions, completing the transformation in 1 and 2 h, respectively. The key success of the selective oxidation is attributed to hydroxyl radical and singlet oxygen (?OH and 1O2), as the redox mediators along a two-step process. These findings open a pathway for oxidation processes on semiconductors in complete darkness, overcoming the limitation of light, being required in a wide range of applications.
Applied Catalysis A
v. 652, p. 119038-1-119038-10 + supplementary material - Ano: 2023
Fator de Impacto: 5,723

@article={003121916,author = {ASSIS, Marcelo de; GOUVEIA, Amanda Fernandes; SILVA, Lara Kelly Ribeiro da; PONCE, Miguel Adolfo; CHURIO, María Sandra; OLIVEIRA JUNIOR, Osvaldo Novais de; MASCARO, Lúcia Helena; LONGO, Elson; LLUSAR?, Rosa; TORRES, Eva María Guillamón; ANDRES, Juan.},title={Towards an efficient selective oxidation of sulfides to sulfones by NiWO4 and a-Ag2WO4},journal={Applied Catalysis A},note={v. 652, p. 119038-1-119038-10 + supplementary material},year={2023}}