Applying biochemical and structural characterization of hydroxycinnamate catabolic enzymes from soil metagenome for lignin valorization strategies.
GONÇALVES, Thiago Augusto; SODRÉ, Victoria; SILVA, Stephanie Nemesio da; VILELA, Nathalia; TOMAZETTO, Geizecler; ARAUJO, Juscemácia Nascimento; MUNIZ, João Renato Carvalho; FILL, Taícia Pacheco; DAMASIO, André; GARCIA, Wanius; SQUINA, Fabio Marcio.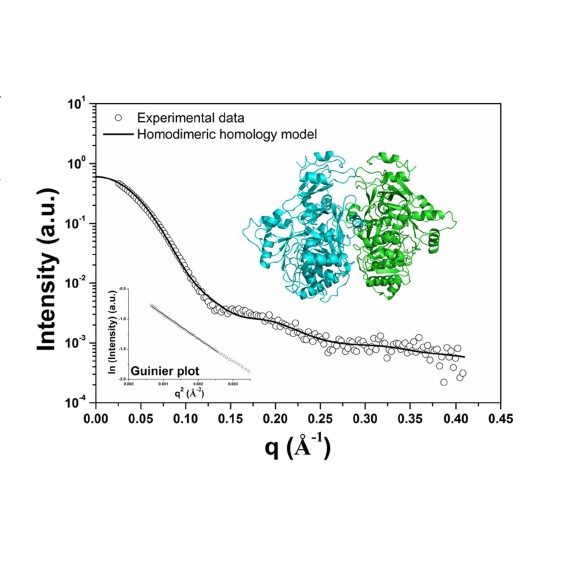 Abstract: The biocatalytic production of fuels and chemicals from plant biomass represents an attractive alternative to fossil fuel-based refineries. In this context, the mining and characterization of novel biocatalysts can promote disruptive innovation opportunities in the field of lignocellulose conversion and valorization. In the present work, we conducted the biochemical and structural characterization of two novel hydroxycinnamic acid catabolic enzymes, isolated from a lignin-degrading microbial consortium, a feruloyl-CoA synthetase, and a feruloyl-CoA hydratase-lyase, named LM-FCS2 and LM-FCHL2, respectively. Besides establishing the homology model structures for novel FCS and FCHL members with unique characteristics, the enzymes presented interesting biochemical features: LM-FCS2 showed stability in alkaline pHs and was able to convert a wide array of p-hydroxycinnamic acids to their respective CoA-thioesters, including sinapic acid; LM-FCHL2 efficiently converted feruloyl-CoA and p-coumaroyl-CoA into vanillin and 4-hydroxybenzaldehyde, respectively, and could produce vanillin directly from ferulic acid. The coupled reaction of LM-FCS2 and LM-FCHL2 produced vanillin, not only from commercial ferulic acid but also from a crude lignocellulosic hydrolysate. Collectively, this work illuminates the structure and function of two critical enzymes involved in converting ferulic acid into high-value molecules, thus providing valuable concepts applied to the development of plant biomass biorefineries.
Applied Microbiology and Biotechnology
v. 106, n. 7, p. 2503-2516 - Ano: 2022
Fator de Impacto: 4,813

@article={003071806,author = {GONÇALVES, Thiago Augusto; SODRÉ, Victoria; SILVA, Stephanie Nemesio da; VILELA, Nathalia; TOMAZETTO, Geizecler; ARAUJO, Juscemácia Nascimento; MUNIZ, João Renato Carvalho; FILL, Taícia Pacheco; DAMASIO, André; GARCIA, Wanius; SQUINA, Fabio Marcio.},title={Applying biochemical and structural characterization of hydroxycinnamate catabolic enzymes from soil metagenome for lignin valorization strategies},journal={Applied Microbiology and Biotechnology},note={v. 106, n. 7, p. 2503-2516},year={2022}}