Diffusion of photoexcited holes in a viscous electron fluid.
PUSEP, Yuri A.; TEODORO, M. D.; LAURINDO JR., V.; OLIVEIRA, E. R. Cardozo; GUSEV, Gennady; BAKAROV, A. K.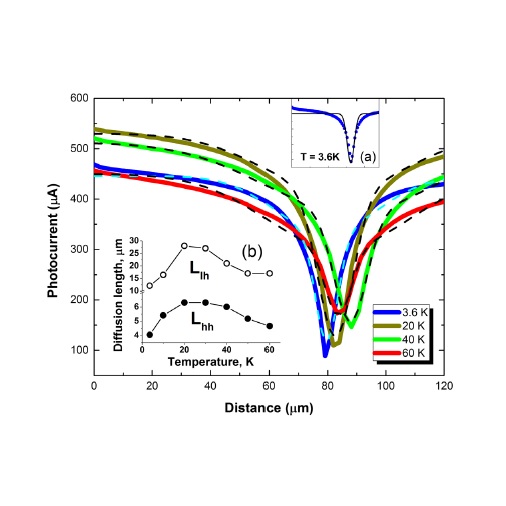 Abstract: The diffusion of photogenerated holes is studied in a high-mobility mesoscopic GaAs channel where electrons exhibit hydrodynamic properties. It is shown that the injection of holes into such an electron system leads to the formation of a hydrodynamic three-component mixture consisting of electrons and photogenerated heavy and light holes. The obtained results are analyzed within the framework of ambipolar diffusion, which reveals characteristics of a viscous flow. Both hole types exhibit similar hydrodynamic characteristics. In such a way the diffusion lengths, ambipolar diffusion coefficient, and the effective viscosity of the electron-hole system are determined.
Physical Review Letters
v. 128, n. 13, p. 136801-1-136801-6 - Ano: 2022
Fator de Impacto: 9,161

@article={003071191,author = {PUSEP, Yuri A.; TEODORO, M. D.; LAURINDO JR., V.; OLIVEIRA, E. R. Cardozo; GUSEV, Gennady; BAKAROV, A. K.},title={Diffusion of photoexcited holes in a viscous electron fluid},journal={Physical Review Letters},note={v. 128, n. 13, p. 136801-1-136801-6},year={2022}}