Adsorption of 17a-ethinylestradiol onto a novel nanocomposite based on graphene oxide, magnetic chitosan and organoclay (GO/mCS/OC): kinetics, equilibrium, thermodynamics and selectivity studies.
ALMEIDA, Arthur da Silva Vasconcelos de; MASTELARO, Valmor Roberto; SILVA, Meuris Gurgel Carlos da; PREDIGER, Patricia; VIEIRA, Melissa Gurgel Adeodato.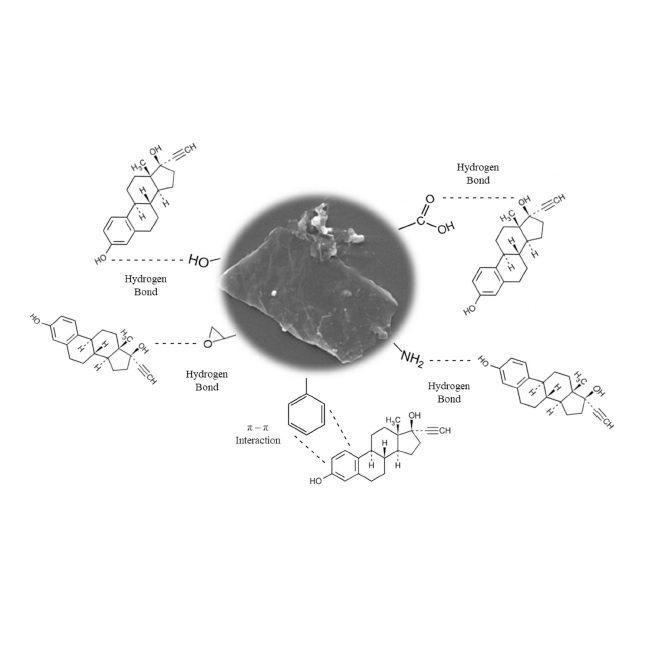 Abstract: 17a-ethinylestradiol (EE2) is a synthetic estrogen present in contraceptive pills, being considered an emerging contaminant. In this work, EE2 adsorption process in a nanocomposite of graphene oxide, magnetic chitosan and organophilic clay (GO/mCS/OC) was evaluated. The nanocomposite was characterized by nitrogen phys- isorption, thermogravimetry, X-ray diffraction, X-ray photoelectric spectroscopy, Fourier transform infrared spectroscopy, Raman spectroscopy and scanning electron microscopy. The effects of dosage, sonication time and pH on the process were assessed. Kinetics, equilibrium, thermodynamics and reusability tests of EE2 adsorption onto GO/mCS/OC were investigated. The adsorptive kinetics of EE2 followed a pseudo-second order model, while the equilibrium was better represented by the BET model, with a characteristic profile of multilayer physisorption. Thermodynamics suggested that the process was spontaneous and endothermic. Adsorption mechanisms were assessed, indicating an important role of oxygenated and nitrogenated functional groups, as well as the aromatic structure of the GO/mCS/OC, promoting H-bonds and p?p interactions. The nanoadsorbent had a maximum experimental capacity of 50.5 mg g??1 (30 ?C). The selectivity of the nanocomposite in binary solutions with bisphenol A (BPA) revealed satisfactory removal efficiency, good selectivity and material stability. The GO/OC nanocomposite showed reuse potential for two consecutive cycles, decreasing its capacity until the fifth adsorptive cycle. Finally, the developed nanocomposite proved to be a promising alternative for removing emerging contaminants from aquatic matrices.
Journal of Water Process Engineering
v. 47, p. 102729-1-102729-18 - Ano: 2022
Fator de Impacto: 5,485

@article={003070546,author = {ALMEIDA, Arthur da Silva Vasconcelos de; MASTELARO, Valmor Roberto; SILVA, Meuris Gurgel Carlos da; PREDIGER, Patricia; VIEIRA, Melissa Gurgel Adeodato.},title={Adsorption of 17a-ethinylestradiol onto a novel nanocomposite based on graphene oxide, magnetic chitosan and organoclay (GO/mCS/OC): kinetics, equilibrium, thermodynamics and selectivity studies},journal={Journal of Water Process Engineering},note={v. 47, p. 102729-1-102729-18},year={2022}}